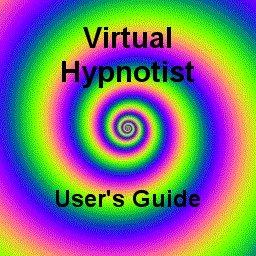 ©2009 FollowTheWatch55
http://vhypno.mindhackers.org

Thank you for using Virtual Hypnotist! This document is the official user's guide for the Virtual Hypnotist software, and is designed for both beginners and advanced users. Even though Virtual Hypnotist is a complicated and extensive program, it becomes fairly easy to use once you understand the basics. See the Getting Started section for a quick tutorial.
What is Virtual Hypnotist?

Virtual Hypnotist is a complete open-source all-in-one self hypnosis program designed to simulate real hypnosis sessions, and to be used as a general self-help or experimental program. Please note that this software is not intended to be a replacement for a licensed hypnotist or hypnotherapist; instead it is designed to facilitate in self-hypnosis and online hypnosis. Also note that this software doesn't "magically" control someone's mind or covertly put them into a trance; it simply uses standard methods to induce an altered state of consciousness in a willing subject.

Features
-Script maker, for easily editing scripts, and for creating your own, which uses a flexible and unique scripting language.
-Binaural brainwave synchronizer, for generating sounds that help induce hypnosis (sync brainwaves), and for providing flashing color bars that visually also sync brainwaves.
-Lots of pre-made scripts, from inductions, deepeners, suggestions, etc.
-Two subliminal message systems, which add visual subliminal messages in sessions, and even let you display them on your computer screen while you work
-Hypnotic visual maker, for designing your own hypnotic effects
-Cool presets that get you started instantly
-A session logbook that lets you write down successes, notes, ideas, etc.
-Fully customizable hypnosis sessions
-Complete speech synthesis; choose from a selection of multiple voices, and even use other SAPI4 or SAPI5-compliant speech engines (only partial SAPI5 support is implemented).
-Speech recognition that lets you verbally respond to questions and prompts while under hypnosis
-Easy and powerful scripting language called ISL used for creating and processing scripts
-Animated characters used as virtual "hypnotists"
-Pop-up sessions, where the program can hide in the background and "pop up" at a certain time, and start the hypnotic induction
-Support for video files and flash animations, via Windows Media and Macromedia Flash, and even lots of videos/animations included
-Speed controls, to slow down and speed up both audio and video
-HypnoChat and Remote Controller, an AIM-compatible instant messaging system that allows one user of Virtual Hypnotist control another user's program over the Internet with the subject's consent, and even supports group sessions
-Complete tray icon and popup menu support
-Text-only sessions that display text on the screen instead of using the speech system.
-Background and Subliminal modes
-Support for playing hypnosis audio files, while using Virtual Hypnotist for graphics
-3D graphics support with the TrueVision3D graphics engine
-Video and audio volume and rate changing support
-Session previewing support
-WAV file output support (SAPI5 only)
-Script Processor Console which allows a user to operate the script system in an interactive manner
-Script Converter for converting standard text scripts to the ISL script format
-Personalized information for use in sessions (name, gender, and preferred trigger)
-New GrockTunnel visual, which is a remake of the Grock hypnosis program, and supports word lists written for it.
-Support for loading scripts, images, videos and audio directly from internet URLs
-Comes with the Virtual Hypnotist User's Guide
-All source code is included (written in Visual Basic 6)
-And more :)
---
Changes
3/29/09 - Updated guide for version 5.8
8/24/08 - Updated guide for version 5.7
6/17/08 - Updated guide for version 5.61
5/23/08 - Updated guide for version 5.6
9/17/06 - Updated guide for version 5.51
8/25/06 - Updated guide for version 5.5
12/23/05 - Updated guide for version 5.41
12/6/05 - Updated guide for version 5.4
9/28/05 - Finished guide update for 5.3
9/3/05 - Added more pics to the Visual Maker section, and updated guide for version 5.3
8/6/05 - Updated guide for version 5.2
5/17/05 - Updated guide for version 5.1
05/06/05 - Guide for version 5.0 finished
04/01/05 - Started making guide for version 5.0
12/04/04 - Added "Setting up Speech Recognition" section
10/12/04 - Updated guide for version 4.5
10/1/04 - Added "Saving Scripts and Subliminals" and "Command Line Options" sections, and added the Subliminal Control Panel information and pictures to the Session Types section.
9/29/04 - First release
---
You can now either move on to one of these:
Getting Started
has a clickable version of Virtual Hypnotist's main screen, with help on specific items
---